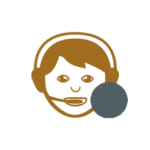 Knowing that you have an effectively managed help desk IT support in place is essential to your business. If you have IT issues and you are not able to get on top of them quickly, you could lose orders, damage your reputation and potentially cause irreparable damage to your brand. One of the key cornerstones of the Haventech service offering is our managed IT help desk, allowing your users to contact us directly, at their time of need, from any location whenever they experience an IT issue.
Our experienced and growing team are all specifically trained to help support you, using accepted industry processes to provide you with the service and technical excellence that you need, when you need it. We offer a full range of transparent support options managed by your own account manager, including telephone support, remote support and hardware support. When it comes to providing effective IT support, Haventech recognizes the value of long-term relationships for all parties, where we get to know your setup intimately and can provide you with the best support possible, while you benefit from excellent service and fantastic value for money.
Benefits of our IT help desk service:
Significantly reduce your IT staffing costs while being able to call on a knowledgeable team with leading IT vendors, such as Cisco, Microsoft, HP, and VMware.
Concentrate on the other elements of your business, providing you with the IT support platform that you need for success.
Confidently expand your business opening hours, knowing that you have skilled IT resources to cover every IT eventuality.
Improve your customer service through the effective use of IT systems and processes, knowing there is a knowledgeable team on hand when you need them.
Enjoy responsive, friendly help from our experienced and directly employed support team.
Benefit from solid service level agreements and prioritized responses designed to deliver within guaranteed time frames.
Call on a single point of contact for all your IT requirements.