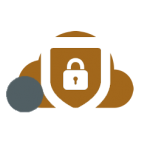 A fast, secure, and easy way to back up your data and digital assets off-site, without the cost, complexity, and worry of managing your own infrastructure. We have an optimized backup solution that uses innovative technologies as an effective and seamless way to establish your off-site backup, without you needing to manage, back-up jobs, storage, or change tapes.
Benefits of using our online backup service:
Your data is secure and compliant. Your data is hosted in our security standard compliant cloud infrastructure that is built on our geographically dispersed enterprise-class, highly available, highly secure, and fully redundant hardware.
You don't have to worry about any complex configurations and setup. We can simply be added as a service provider target from your console or we can manage the whole process for you, which means no more of your valuable time needs to be spent checking your backups.
Following the initial backup, we can then automate and monitor the backup process for you, ensuring that your latest data is always completely backed up at all times.
We can quickly and easily add resources and capacity as needed.
Your data can be encrypted at the source before it leaves your network. It is then transferred securely encrypted, before arriving in our information security management accredited infrastructure.
You benefit by not having to invest in costly backup equipment, while also being able to enjoy granular replication that allows you to select only the data that you would like to protect.
Our knowledgeable, experienced, and accredited engineers can quickly and easily set you up to start using and benefiting from this robust backup solution.
More and more of our customers are recognizing the power of cloud connect and our 100% infrastructure availability SLA.
You can rest assured that we have people available to help when you need us most.